ELECTRONICS OUTSOURCING
Contract Electronics Manufacturers (CEMs) put an electronics manufacturing solution at the fingertips of OEMs in every area of industry. And, of course, project managers looking at electronics outsourcing dream of a hassle-free experience. This means that submitting a form via the CEM's website, possibly with some minimal extra data sent by e-mail, sounds like a very convenient and straightforward option. However, as David Dickin, Business Development Director at Prism Electronics explains, the reality is that finding the right CEM to suit your project requires a little more consideration.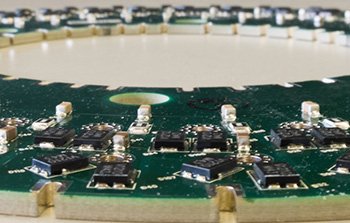 If you're thinking of outsourcing your electronics manufacturing, it's almost certainly because you don't have or don't want to use your internal resources. By outsourcing you will have access to and will benefit from a generous pool of knowhow from specialists who have been working in the industry for decades. And, even if you have your own nominally finalised design, using a CEM will provide you with impartial advice that could help improve it and iron out any mistakes before committing it to production.
CEMs come in many shapes and sizes and you do need to make sure that there is a good match between the wider needs of your company and your chosen CEM's approach to business.
You'll be buying services that will make and deliver your own custom products, not just mere commodities. Your products may need to change in response to market forces such as customer demand or materials shortage. You will expect your CEM to be attentive to your needs, whether expressed or inferred, to deliver what they promise and to keep you informed if there are problems.
The right CEM should be able to act as an extension of your business and help protect your reputation. The wrong CEM may promise what you want to hear, but end up struggling to meet your expectations and thereby damaging your business.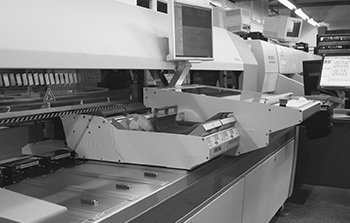 Although your relationship with a potential CEM might begin with you asking an apparently simple question (like "how much will it cost?" or "how long will it take to deliver?"), in reality there is usually a range of answers depending on the manufacturing process, material constraints and appetite for risk. A good CEM that has taken the time to understand your business goals and ethos should make you aware of these alternative answers and help you make the right choices.
To offer the best outcomes, successful outsourcing has to be a dynamic relationship, and it should always start with a discussion where both parties explore what's really possible and deliverable. It's crucial when selecting a CEM to find one that you trust to make promises that are deliverable. It can, therefore, be useful to ask for and follow up references from the CEM's existing customers. A good CEM has to be flexible, responsive and a trusted industry expert, with the credentials and track record to prove it.
After the initial brief has been decided upon and the CEM starts the manufacture of your PCB, it is crucial to ensure the conversation doesn't stop. The CEM should be proactive and engage with you as the customer, keeping you informed along the way.
Is everything going according to plan? Are there any design improvements that would ease assembly and reduce cost? Are there unforeseen risks that may affect product delivery? These are all valid questions that the CEM should answer, or preferably pre-empt, throughout the duration of each project. Keeping the conversation going allows both the customer and the supplier to explore a business relationship for the long run that is productive and honest.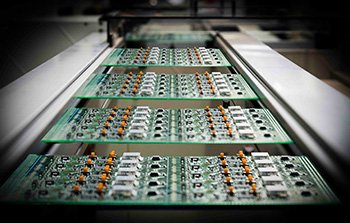 You need to be aware of (and even audit your chosen CEM on) quality assurance and New Product Introduction (NPI) procedures. The supplier should have a robust quality management system that incorporates clear preventative and corrective action processes based on standards such as ISO9001, preferably backed up by third party certification. It is extremely important to know how unforeseen issues will be dealt with. In other words, how your CEM plans to minimise risk and investigate if something goes wrong, as well as the steps they will take to prevent such issues from arising in the future.
Good suppliers with distinguished track records should have the in-house assets and resources needed to cover any problems that might occur. Even if it's your liability as a customer specifying a product, your CEM provider should do whatever they can to mitigate errors – after all, no one makes mistakes on purpose!
Everyone benefits from a dynamic relationship – CEM capacity planning, process improvement and capital investment are eased when there is good customer feedback. Production-led design improvements and demand-led production will benefit the OEM and end customers are more likely to get what they want.
Not all CEMs have the necessary infrastructure to support flexible manufacturing of products that often change in design or demand. So if you require changes in the design or throughout production, then you need to select your supplier extremely carefully. Problems and opportunities can easily be resolved by good, timely communication!
A CEM that has invested in responsive infrastructure and specialists that take the time to know you and ask all the important questions about your business and projects is unlikely to come in with the cheapest price quotation. However, they are much more likely than a 'bargain-basement' supplier to deliver the smoothest working experience and, in fact, the lowest overall cost. It's always worth remembering that a low quote doesn't mean much if your project is held up by late deliveries or other production bottlenecks.
Finally, for many companies choosing a locally based CEM is also useful. Building strong relationships can be easier with regular face-to-face meetings and short journey times are usually less strenuous for all parties involved.
Finding the right CEM for your project will invariably be rewarding and, if correctly handled, the process can be virtually stress-free. However, before the project is left with the supplier, it's essential that you are confident that you have made the right choice for the right reasons, as discussed in this article. Careful auditing and interviewing of your potential CEMs will allow you to reap big benefits at a later stage.
In conclusion, a good CEM should be a problem solver, adding value to your business and supporting your needs. Selecting a reputable CEM that has a price point you can afford, a proven track record and a responsive, flexible approach is the key to creating a successful partnership.