Prism Electronics Ltd, the award-winning Cambridgeshire based Contract Electronics Manufacturer (CEM) has welcomed a new Managing Director, Chrissy Cooper, to the team.
Chrissy takes over from Dave Dawson who made the difficult decision to step down at the end of the summer.
Chrissy has many years of senior management experience in industry, most recently in the Electronics Sector, having worked for Component Manufacturers and Global Distribution where she has had responsibilities for both Sales and Procurement.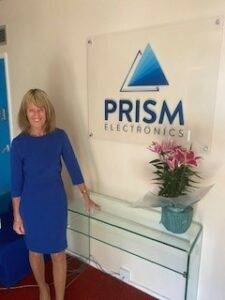 She has been responsible at Director level for building successful internal and external teams, generating business by developing strong relationships within the industry.  Her focus at Prism will be on business growth by building on our valued reputation as a first class electronics manufacturer concentrating on complex products and understanding our customers' individual needs, ensuring we will remain, or become, a highly trusted partner.
Speaking about her move to Prism Chrissy said: "I am genuinely excited to be joining Prism and my goal is to grow turnover and profitability, whilst ensuring we remain dedicated to providing the best possible level of exceptional customer service working hard to ensure we continue to deliver positive results for our customers.  Brand reputation is incredibly important and we want our customers to remember us and feel valued due to the service they've received – further cementing our role as one of the leading electronic contract manufacturers in the UK.
For further information about our manufacturing services please visit our website:
www.prism-electronics.com or call us on +44 (0) 1480 462 225.