Contact our Senior Account Manager Glen Dear. 
Prism Electronics is a company focused on its employees. By ensuring we develop, reward, and recognize our own staff enables us to deliver the very highest levels of service as a business to our customers. Account manager Glen Dear, part of Prism's front-end sales team, joined the company 19 years ago and hasn't looked back!
After graduating from university with a BA Honours in economics Glen worked for Fisher-Rosemount and Benchmark Electronics in roles as a Production planner, Buyer, and Project manager. Joining Prism in 2004 as an Account manager, Glen has always been highly customer focused. This motivation combined with his professional experience in procurement and project management provides the perfect foundation for his current role within the Business Development team.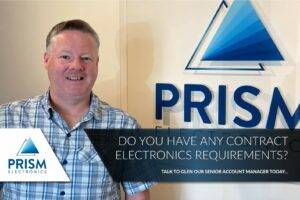 Glen enjoys working for a people focused company commenting: "We are all 'customers' of some description every single day. I, like most people have a genuine dislike for poor customer service. I put myself in our customer's shoes when carrying out my role. Bad customer service can take many forms, I and the rest of the Prism team work hard to ensure we maintain the highest levels of customer service to ensure we achieve and hopefully exceed customer expectations. Communication is key, whatever the nature of the news, this should always be presented in a timely and transparent manner.
"Prism is an intrinsically ethical company; we like to do things properly. This is probably one reason why so many of its employees and customers measure the length of their relationship with Prism in decades.  We are not a particularly large company, which allows everyone to know everyone. This size helps us all to work collaboratively in delivering excellent service and quality product to our customers."
When Glen isn't working he spends most of his free time with family, usually chasing son George around a Park!  He also likes to stay fit by participating in local sporting activities as often as possible. He comments "I play football every Sunday with old school friends, and I play in a pool league every Thursday, I also run with the Needingworth Eels 2-3 times a week so there's plenty in the local community to keep me busy!"
Reflecting on Glen's time with Prism Electronics Managing Director Dave Dawson said: "Providing consistently high levels of service to our customers relies upon having a highly skilled and motivated Team. We recognise that our team is our greatest asset. Employees who feel valued and that their effort is rewarded, will strive to perform well for the company and its customers."
If you would like to speak to Glen today, please contact him here…