Contract electronics manufacturer Prism Electronics in St Ives, Cambridgeshire, has once again achieved the prestigious Investors in People standard. The IIP accreditation is awarded to companies that show ongoing commitment in leading, supporting and improving themselves and their staff. Prism has successfully demonstrated this at every assessment since its accreditation in 1999, proving it really does invest in its people!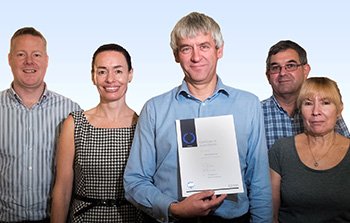 "A recognised indicator of excellence for more than 25 years, the Investors in People Standard is underpinned by a rigorous assessment methodology and a framework which reflects the very latest workplace trends, essential skills and effective structures required to outperform in any industry," explained Claire George Human Resources Officer at Prism. "The standard basically defines what it takes to lead, support and manage people effectively for sustainable results."
After an onsite audit and interviews with members of staff at all levels, the IIP assessor concluded that Prism has taken many additional steps since the last review to advance its employees and improve its policies. In order to achieve this, HR and the management teams have worked closely together, focusing on meeting key indicators and responding to feedback from staff.
The company has a five-strong employee committee that meets bi-monthly to discuss staff issues. It is a cross-section of Prism's workforce to ensure that every part of the company is represented. As a result, Prism boasts extremely low staff turnover.
In addition, a recent internal survey showed that the vast majority of employees greatly valued the role they play in company discussions. The survey also revealed that staff felt their contribution is recognised, they are encouraged to show initiative and that people get the recognition they deserve.
"We are proud to have achieved the IIP standard once more in 2015", said David Dickin, Business Development Director. "At Prism, our people are key assets and we use IIP assessments to make sure we use best practice to manage individuals and get the best out of their varied sets of skills. The independent and comprehensive report we get each time helps us to put together a successful business strategy with employees at its core."